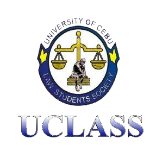 UNIVERSITY OF CEBU LAW STUDENTS SOCIETY (UCLASS)
MISSION
To provide opportunities for law students to pursue their ideal educational experience through encouraging them to participate in various student-centered group activities which shall allow them to develop personal and professional relationships, learn leadership and organizational skills, and serve the community.
VISION
To emerge as a student body that is driven to excel, determined to uphold the rule of law and desires equal rights for all people.
PRINCIPLES
The organization believes and adheres to the rule of law, consultative, participatory and democratic processes, the principle of committed public service, and the precepts embodied in the Code of Professional Responsibility of the legal profession.
OBJECTIVES
The organization shall promote and develop the welfare of UC law students in their academic and co-curricular pursuits, endeavor to develop their potential for excellence, support the efforts of the school administration to maintain and continuously improve the academic standards of the UC School of Law in order to produce outstanding members of the legal profession, and help foster nationalism and patriotism as a means of promoting responsible citizenship.